Cyberpunk 2077 New patch For PS5 and Xbox Series X/S Versions Out Now
The highly anticipated PS5 and Xbox Series X/S upgrades for Cyberpunk 2077 are out today. The game will also include a free trial version, free downloadable content, and a 50GB 1.5 patch on all platforms.
The first glimpse of the update came during a CD Projekt Red stream about the new versions and 1.5 patch, when we were shown a quest that alternated between PS5, Xbox Series X, and Xbox Series S footage. PS5 users will need to download an entirely new version of the game; whereas Xbox players will be patched. PS5 and Xbox Series X/S Versions
Cyberpunk 2077 New patch For PS5 and Xbox Series X/S Versions Out Now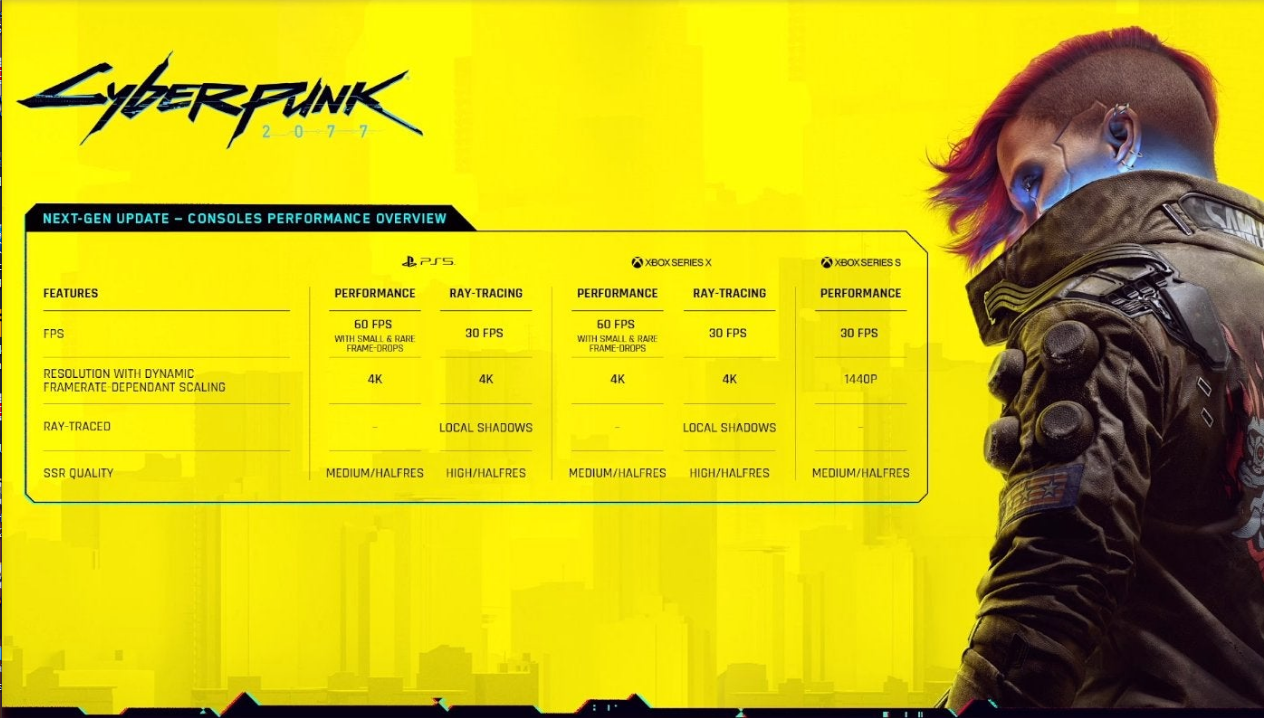 All three consoles will be capable of running games at 1080p and 4K resolution. The PS5 and Xbox Series X may offer performance (prioritizing 60FPS) or ray-tracing modes, whereas the Xbox Series S will solely have a 30FPS 1440p mode.
The option to change your character's basic appearance in the mirror of their home apartment, including new hairstyles and make-up options, will be one of the most popular DLC add-ons for all versions of the game. You'll also be able to purchase additional cosmetic makeovers for your apartment – and even four entirely new Night City homes.
If there's one thing I can tell you about this city – you either love it or wanna burn it.

No middle ground. #Cyberpunk2077 pic.twitter.com/NnRPS8ExU3

— Cyberpunk 2077 (@CyberpunkGame) February 15, 2022
Those Wilson's gun store now sells some new weapons that can be purchased after you meet Takemura in the game's story. There will also be "secrets" left to discover, according to the game developers, that have been added to the game.
The new free trial will let you play 5 hours of the game (but after 30 days). It's possible that it's being utilized to entice people who had been put off by the many, numerous reports about Cyberpunk's disastrous release – which resulted in the game being removed from the PS Store, CDPR being compelled to settle a lawsuit with unhappy investors
All platforms will receive Update 1.5, which is a large 50GB update. It seeks to incorporate various new fixes and features. Perks have been revised, with perk trees being updated and in-progress saves being given back all of their perk points to be able to redistribute. The game's perks have been modified in order to balance it.
The population of your surroundings will also change if you speed up time in-game; the skip time UI has been updated to make it easier to read. The map may now be filtered, as can other elements of the user interface.
The handling of cars has also been altered, with vehicles apparently modified to make them feel heavier, brakes improved, and visibility improved when driving in first-person. When performing burnouts or drifts, they're now a lot more practical. Multiple motor vehicles are no longer driven into one location; instead, they seem in different locations. The economy has
Performance Mode
Ensures smooth gameplay at 60fps with dynamic 4K scaling.
Ray Tracing Mode
With dynamic 4K scaling, this setting delivers photorealistic shadow and reflection rendering, as well as gameplay at 30 frames per second.
With dynamic 4K scaling, it ensures that gameplay is fluid and smooth at 60fps.
With dynamic 4K scaling, background streaming, and real-time shaders, Shadow of the Tomb Raider deliver photorealistic shadow and reflection rendering as well as gameplay at 30fps.